excerpt from Because She Is Beautiful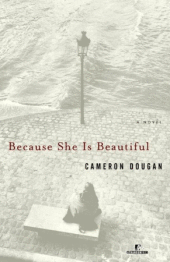 "Michael couldn't understand. It was not jealousy she felt, seeing Robert with Nicole, but fatigue. Jealousy was too black-and-white. For Robert to come to her in the night, complaining of the same wounds week after week, craving salve; to tell him simply to leave Nicole, or to even think that was a viable solution--that would have been jealousy. She never suggested that he desert her. Rather, she dug deep. She found examples in their relationship of his generosity, the ways he took care of her, and used these to contradict Nicole's portrayal of him, to reassure him. She reminded herself that it was love that kept him at Nicole's side, and love that brought him to her door, and that love, unlike jealousy, was an endless combination of true and false, a sweet painful Godlike gray. She had to find new ways to offer the same encouragements, to overcome the dim knowledge that she rarely saw Robert at his best, but always in some troubled state. All this she could bear. She certainly did not wish to be in Nicole's shoes, but there was no way of proving that to Michael."

"Dougan is a writer of great promise and range."
–Associated Press